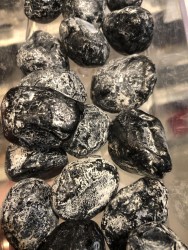 Apache Tears get their name from stories such as Indigenous women would carry them after their husbands and sons died in battle; or that they were formed by the tears that fell to ground after Indigenous women lost their loved in a raid.
Apache Tears are a stone of grief and healing from loss. It can help let go of anger and bitterness that may surround loss/grief. Also good for protection and for helping with hostility and bitterness of others.
Sizes range from .5" to 1.5"
Colors may vary.