Coexist Pendant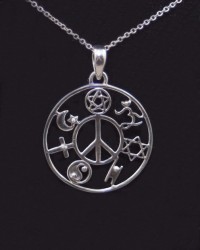 Coexist pendant. Includes a peace symbol, a cross, a Star of David, and a pentacle.

Silver chain not included.
New Items
Join award winning Celtic band Govannen on a delightful album of instrumental Celtic Christmas music.

Reiki Colours is beautiful healing music by Andreas. 
Specially timed 5 minute tracks that are ideal for a Reiki treatment.

Produced by Llewellyn, popular vocalist Juliana presents one of her most enchanting and magical albums to date.